Get Your Car's AC Compressor Repaired
At Beach Cities Auto Repair & AC we know each component of your car's AC has a specific function. A cracked or damaged compressor can cause your car air conditioning to fail. Call today at 714-375-3145 and talk to one of our pro mechanics about repairing your car's AC compressor.
Replacing Your Car's AC Compressor
At Beach Cities Auto Repair & AC we recommended that car owners replace the complete AC compressor assembly because the compressor replacement core operates under extreme physical pressure. The compressor is powered by a serpentine belt, which provides the energy needed to compress freon refrigerant to cool the car's cabin. Once compressed, the freon is in a volatile, high-pressure state. This pressure forces the liquid out of the compressor and through the cooling system.
What To Expect When Beach Cities Auto Repair & AC In Huntington Beach Replaces Your AC Compressor
Beach Cities Auto Repair & AC uses AC compressors that are durability-tested for high heat conditions.
We use a replacement kit assembly designed to meet or exceed OE function. It includes car AC compressor, accumulator and any needed expansion devices.
We use kits with a "Rapid Seal" designed specifically for your compressor. Beach Cities Auto Repair & AC's pro mechanics know that even the smallest gaps can cause serious damage to your car's cooling system and engine.
More AC Repair Services:
Car and Truck AC Freon Recharging

OUR REVIEWS
(

104

Reviews)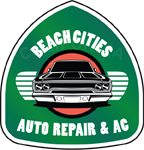 My best to all of the Beach City Auto Family!
I am sooooooo SO HAPPY I found a genuinely GOOD, FAIR & HONEST shop to take my vehicle to. I was very skeptical to try yet another auto shop as I've been raked over the coals, and bent over with no Vaseline so many times before. It's painful you know. Now, I can put my fears to rest and I firmly believe I've found the best. These guys were honest as to what I did and did NOT NEED. They did not call with a laundry list of repairs or try to pressure me in any way. The quote they gave me was fair and the work was completed and correct and done before the end of their work day which was a PLUS for me. Thank you Dave, Omar and Staff for an exceptional first time experience. I have finally found my GO TO SPOT for my vehicle needs. Thank you Val & Mike for training the guys to do it right. My heart and thoughts are with you both.
Tina E
, 09/19/2023