Tire Alignment and Tire Rotation Services
Beach Cities Auto Repair & AC Alignment and Tire Adjustments
Ensure your tires are in optimal condition with precise alignment services at Beach Cities Auto Repair & AC. Properly aligned tires not only extend their lifespan but also enhance your vehicle's handling by preventing it from "pulling" to one side. Our certified tire specialists employ state-of-the-art equipment to meticulously inspect your tires for signs of uneven wear, cracking, or slow leaks.
Alignment Services
Wheel alignment, a fundamental aspect of regular car maintenance, entails the precise adjustment of wheel angles to align with the manufacturer's specifications. This process ensures that your suspension and steering systems operate at optimal angles, ultimately reducing tire wear. Alignment is a complex task and our skilled experts who excel in this field can guarantee precision and quality.
Don't let uneven tire wear diminish the longevity of your tires. Experience a fast and cost-effective tire alignment at our shop in Huntington Beach. Call us today at 714-375-3145 to schedule an appointment.

OUR REVIEWS
(

104

Reviews)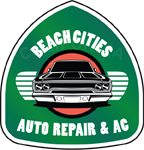 My best to all of the Beach City Auto Family!
I am sooooooo SO HAPPY I found a genuinely GOOD, FAIR & HONEST shop to take my vehicle to. I was very skeptical to try yet another auto shop as I've been raked over the coals, and bent over with no Vaseline so many times before. It's painful you know. Now, I can put my fears to rest and I firmly believe I've found the best. These guys were honest as to what I did and did NOT NEED. They did not call with a laundry list of repairs or try to pressure me in any way. The quote they gave me was fair and the work was completed and correct and done before the end of their work day which was a PLUS for me. Thank you Dave, Omar and Staff for an exceptional first time experience. I have finally found my GO TO SPOT for my vehicle needs. Thank you Val & Mike for training the guys to do it right. My heart and thoughts are with you both.
Tina E
, 09/19/2023