COUPONS
Auto Repair Coupons, Rebates & Offers


Check our coupons page and follow our tips below to help you save money on the cost of car repairs and maintenance.
Schedule a regular oil change at Beach Cities Auto Repair & AC in Huntington Beach. It is the key to easy car maintenance and eliminating expensive engine repairs down the road.
Pay attention to the "service light" warnings on your dashboard. Responding quickly to a service light is often easy and affordable but ignoring a service light can greatly increase the cost of future car repairs.
Get to know your owner's manual. It is time well spent. The owner's manual contains valuable tips for keeping the cost of car maintenance and service affordable.
Discuss the details of needed auto repairs with your mechanic.
Call Beach Cities Auto Repair & AC in Huntington Beach at 714-375-3145 for Coupons, Rebates, and Offers and keep your auto repair costs low!

OUR REVIEWS
(

104

Reviews)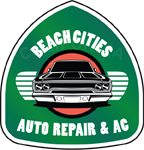 My best to all of the Beach City Auto Family!
I am sooooooo SO HAPPY I found a genuinely GOOD, FAIR & HONEST shop to take my vehicle to. I was very skeptical to try yet another auto shop as I've been raked over the coals, and bent over with no Vaseline so many times before. It's painful you know. Now, I can put my fears to rest and I firmly believe I've found the best. These guys were honest as to what I did and did NOT NEED. They did not call with a laundry list of repairs or try to pressure me in any way. The quote they gave me was fair and the work was completed and correct and done before the end of their work day which was a PLUS for me. Thank you Dave, Omar and Staff for an exceptional first time experience. I have finally found my GO TO SPOT for my vehicle needs. Thank you Val & Mike for training the guys to do it right. My heart and thoughts are with you both.
Tina E
, 09/19/2023